Gastrointestinal ulceration and gastritis in three wild Temmincks Ground Pangolins (Smutsia temminckii) in captive care in Zambia
Dr. John Yabe

University of Namibia

Dr. David Squarre

Dr. Jackson Katampi

Dr. Rachel Mwenda

Dr. Ntombi B. Mudenda

Dr. Audrine Nkana

Ms. Suwilanji Sichone

Mr. Titus Kaira
Keywords:
African pangolins, rehabilitation, pathology, gastric ulceration, Zambia
Abstract
Background: Wild rescued pangolins are known to adapt poorly in their captive environment where many die under rehabilitation. Gastrointestinal disease and pneumonia are the most common causes of death in pangolins. However, literature on the pathology of gastric ulcers is rare. Case presentation: The current case report describes the necropsy and histopathological evaluation of three Temminck's pangolins that died under rehabilitation in Lusaka, Zambia. Grossly, gastric ulcerations of the fundic gland mucosae were seen in the stomachs. Inflammatory cells and erosions of fundic gastric gland mucosa were seen on histopathology. The morphological diagnosis of gastric ulceration with gastritis was attributed to stress and inappropriate diet. Conclusions: The findings are expected to increase knowledge in pangolin diseases and thus improve the conservation efforts to save the pangolin species from extinction.
References
1. Challender DWS, Waterman C, Baillie JEM. Scaling up pangolin conservation. IUCN SSC Pangolin Specialist Group Conservation Action Plan. Zoological Society of London, London, UK. 2014. https://www.iucn.org/downloads/scaling_up_pangolin_conservation_280714_v4_1.pdf. Accessed 20 Apr 2021.
2. Zhang H, Ades G, Miller MP, Yang F, Lai K, Fischer GA. Genetic identification of African pangolins and their origin in illegal trade. Glob Ecol Conserv 2020; 23: e01119.
3. Pietersen DW, McKechnie AE, Jansen R. A review of the anthropogenic threats faced by temminck's ground pangolin, Smutsia temminckii, in southern Africa. Afr J Wildl Res 2014; 44: 167-178.
4. Yang CW, Chen S, Chang CY, Lin MF, Block E, Lorentsen R, Chin JSC, Dierenfeld ES. History and dietary husbandry of pangolins in captivity. Zoo Biol 2007; 26: 223-230.
5. Zhang F, Yu J, Wu S, Li S, Zou C, Wang Q, Sun R. Keeping and breeding the rescued Sunda pangolins (Manis javanica) in captivity. Zoo Biol 2017; 36: 387-396.
6. Forssell H. Gastric mucosal defence mechanisms: a brief review. Scand J Gastroenterol Suppl 1988; 155: 23-28.
7. Dubois A. Stress ulceration-clinical relevance of animal and human studies. Chronobiol Int 1987; 4: 69-73.
8. Lennox AM. Gastrointestinal diseases of the ferret. Vet Clin North Am Exot Anim Pract 2005; 8: 213-225.
9. Chin SC, Liu CH, Guo JC, Chen SY, Yeh LS. A 10-year review of autopsy of rescued Formosan pangolin (Manis pentadactyla pentadactyla) in Taipei zoo. In: Proceedings of the 2nd Symposium on the Asian Zoo and Wildlife Medicine and the 1st Workshop on Zoo and Wildlife Pathology, Chulalongkorn University Bangkok, Thailand 2006; 26-29 October 2006.
10. Khatri-Chhetri R, Chang TC, Khatri-Chhetri N, Huang YL, Pei KJC, Wu HY. A retrospective study of pathological findings in endangered Taiwanese pangolins (Manis Pentadactyla Pentadactyla) from Southeastern Taiwan. Taiwan Vet J 2017; 43: 55-64.
11. Lin MF, Chang CY, Yang CW, Dierenfeld E. Aspects of digestive anatomy, feed intake and digestion in the Chinese pangolin (Manis Pentadactyla) at Taipei Zoo. Zoo Biol 2015; 34: 262-270.
12. Pereira M, Jones G. Successful treatment of suspected gastrointestinal ulceration and parasitism in a rescued Chinese pangolin (Manis pentadactyla). In: Proceedings for the Zoo and Wildlife Health Conference, European Association of Zoo and Wildlife Veterinarians (EAZWV). Online, 6, 14, 22, 30 July 2020.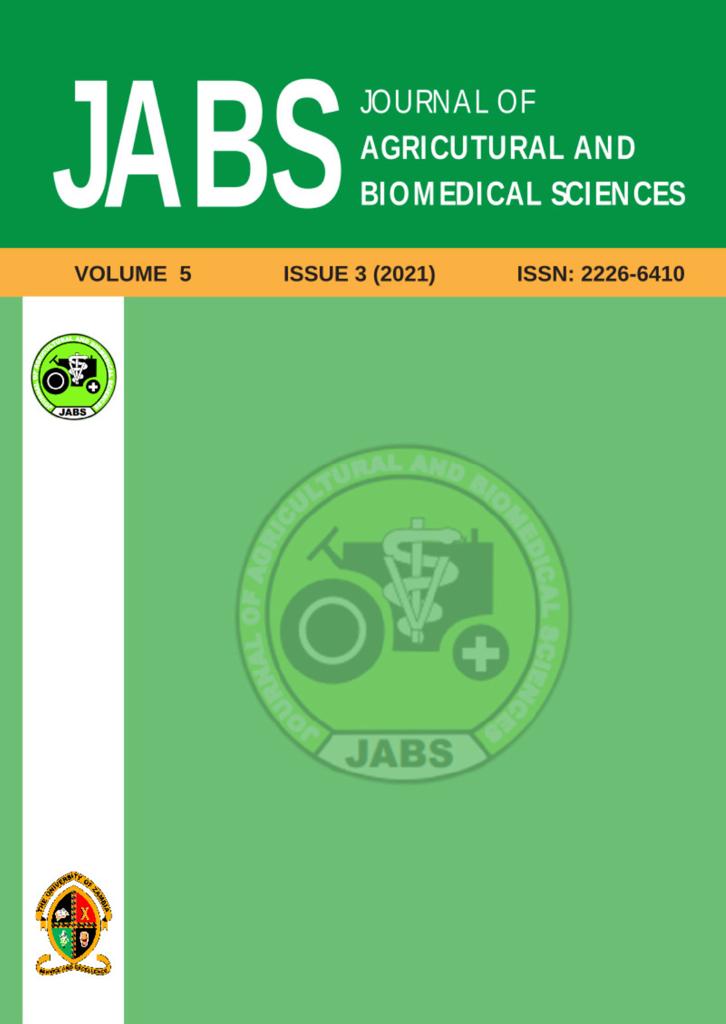 How to Cite
1.
Yabe DJ, Squarre DD, Katampi DJ, Mwenda DR, Mudenda DN, Nkana DA, Sichone MS, Kaira MT. Gastrointestinal ulceration and gastritis in three wild Temmincks Ground Pangolins (Smutsia temminckii) in captive care in Zambia. University of Zambia Journal of Agricultural and Biomedical Sciences [Internet]. 23May2022 [cited 4Jul.2022];5(3):44-9. Available from: https://journals.unza.zm/index.php/JABS/article/view/753
Section
Veterinary Medicine