Potential causes of Acaricide Resistance in Rhipicephalus and Amblyomma Ticks (Acari: Ixodidae) in Namwala District, Zambia
Karen Sichibalo

University of Zambia

Katendi Changula

Chisoni Mumba

Natasha Mwila

Kennedy Chibesa

Benjamin Mubemba

King S Nalubamba

Walter Muleya

Edgar Simulundu

Simbarashe Chitanga
Keywords:
Acaricide; Resistance; Ticks; Cattle; Zambia
Abstract
Acaricide resistance in ticks poses a great threat to livestock production in many parts of the world where ticks are a problem. The objectives of this study were to screen for acaricide resistance in Rhipicephalus and Amblyomma ticks using phenotypic and molecular assays, and to assess current tick control practices used by cattle farmers in the traditional sector of Namwala District. The larval packet test was used to screen for acaricide resistance in ticks covering concentrations up to twice the discriminatory dose for amitraz, diazinon and cypermethrin. Genetic mutations associated with resistance to amitraz (A22C-T8P and T65C-L22S), and organophosphates/ pyrethroids (G1120A) were screened using polymerase chain reaction and sequencing. Information on tick control practices at the household level was collected using a semi-structured questionnaire. Intermediate resistance (21-50%) to amitraz and cypermethrin was detected in both Rhipicephalus and Amblyomma ticks, with both tick genera showing susceptibility to diazinon (<10%). None of the ticks in this study had the reported acaricide resistance-conferring molecular markers that were screened for. The findings suggest that the resistance detected in the studied tick population may be due to other mechanisms yet to be identified. Tick control practices observed amongst the farmers, such as incorrect use of acaricide concentrations and rotations, could be fuelling the development of acaricide resistance. Considering that acaricide treatment is the mainstay of tick control in the country, it is thus critical to comprehensively unravel the factors contributing to treatment failure as this would allow for the application of appropriate remedial actions for effective tick control in Zambia.
References
1. Vudriko P, Okwee-Acai J, Tayebwa DS, Byaruhanga J, Kakooza S, Wampande E, Omara R, Muhindo JB, Tweyongyere R, Owiny DO, Hatta T. Emergence of multi-acaricide resistant Rhipicephalus ticks and its implication on chemical tick control in Uganda. Parasites & vectors. 2016 Dec;9(1):1-3.
2. Sungirai M. Ixodid ticks parasitising cattle in Zimbabwe: Ecology and Management (Doctoral dissertation, Ghent University).
3. Speybroeck N, Madder M, Van Den Bossche P, Mtambo J, Berkvens N, Chaka G, Mulumba M, Brandt J, Tirry L, Berkvens D. Distribution and phenology of ixodid ticks in southern Zambia. Medical and veterinary entomology. 2002 Dec;16(4):430-41.
4. Makala LH, Mangani P, Fujisaki K, Nagasawa H. The current status of major tick-borne diseases in Zambia. Veterinary Research. 2003 Jan 1;34(1):27-45.
5. Simuunza M, Weir W, Courcier E, Tait A, Shiels B. Epidemiological analysis of tick-borne diseases in Zambia. Veterinary parasitology. 2011 Feb 10;175(3-4):331-42.
6. Muleya W, Namangala B, Simuunza M, Nakao R, Inoue N, Kimura T, Ito K, Sugimoto C, Sawa H. Population genetic analysis and sub-structuring of Theileria parva in the northern and eastern parts of Zambia. Parasites & vectors. 2012 Dec;5(1):1-1.
7. Inambao CN. Assessing the Factors influencing Farmers' Decisions in the Control of East Coast Fever in Kafue, Zambia (Doctoral dissertation, Master Dissertation, Van Hall Larenstein University of Applied Sciences 1pp).
8. Laing G, Aragrande M, Canali M, Savic S, De Meneghi D. Control of cattle ticks and tick-borne diseases by acaricide in Southern Province of Zambia: a retrospective evaluation of animal health measures according to current one health concepts. Frontiers in public health. 2018 Mar 27; 6: 45.
9. Mumba C, Häsler B, Muma JB, Munyeme M, Sitali DC, Skjerve E, Rich KM. Practices of traditional beef farmers in their production and marketing of cattle in Zambia. Tropical animal health and production. 2018 Jan;50(1):49-62.
10. Abbas RZ, Zaman MA, Colwell DD, Gilleard J, Iqbal Z. Acaricide resistance in cattle ticks and approaches to its management: the state of play. Veterinary parasitology. 2014 Jun 16;203(1-2):6-20.
11. Rodriguez-Vivas RI, Jonsson NN, Bhushan C. Strategies for the control of Rhipicephalus microplus ticks in a world of conventional acaricide and macrocyclic lactone resistance. Parasitology research. 2018 Jan 1;117(1):3-29.
12. Klafke G, Webster A, Agnol BD, Pradel E, Silva J, de La Canal LH, Becker M, Osório MF, Mansson M, Barreto R, Scheffer R. Multiple resistance to acaricides in field populations of Rhipicephalus microplus from Rio Grande do Sul state, Southern Brazil. Ticks and tick-borne diseases. 2017 Jan 1;8(1):73-80.
13. Yessinou RE, Akpo Y, Sidick A, Adoligbe C, Karim IY, Akogbeto M, Farougou S. Evidence of multiple mechanisms of alphacypermethrin and deltamethrin resistance in ticks Rhipicephalus microplus in Benin, West Africa. Ticks and tick-borne diseases. 2018 Mar 1;9(3):665-71.
14. Arafa WM, Klafke GM, Tidwell JP, de León AA, Esteve-Gassent M. Detection of single nucleotide polymorphism in the para-sodium channel gene of Rhipicephalus annulatus populations from Egypt resistant to deltamethrin. Ticks and Tick-borne Diseases. 2020 Sep 1;11(5):101488.
15. Baron S, van der Merwe NA, Madder M, Maritz-Olivier C. SNP analysis infers that recombination is involved in the evolution of amitraz resistance in Rhipicephalus microplus. PloS one. 2015 Jul 9;10(7): e0131341.
16. Sungirai M, Baron S, Moyo DZ, De Clercq P, Maritz-Olivier C, Madder M. Genotyping acaricide resistance profiles of Rhipicephalus microplus tick populations from communal land areas of Zimbabwe. Ticks and tick-borne diseases. 2018 Jan 1;9(1):2-9.
17. Luguru SM, Banda DS, Pegram RG. Susceptibility of ticks to acaricides in Zambia. Tropical animal health and production. 1984 Mar;16(1):21-6.
18. Muyobela J, Nkunika PO, Mwase ET. Resistance status of ticks (Acari; Ixodidae) to amitraz and cypermethrin acaricides in Isoka District, Zambia. Tropical animal health and production. 2015 Dec;47(8):1599-605.
19. LSCS. Livestock Services Cooperative Society. Technical Services Division, 2019 final year report. Lusaka Zambia. 2019, pp7, unpublished.
20. Steyn HC, McCrindle CM, Du Toit D. Veterinary extension on sampling techniques related to heartwater research. Journal of the South African Veterinary Association. 2010 Sep 1;81(3):160-5.
21. Walker AR. Ticks of domestic animals in Africa: a guide to identification of species. Edinburgh: Bioscience Reports; 2003.
22. [FAO] Food and Agriculture Organization of the United Nations. Guidelines resistance management and integrated parasite control in ruminants. 2004.
23. Rodríguez-Hidalgo R, Pérez-Otáñez X, Garcés-Carrera S, Vanwambeke SO, Madder M, Benítez-Ortiz W. The current status of resistance to alpha-cypermethrin, ivermectin, and amitraz of the cattle tick (Rhipicephalus microplus) in Ecuador. PloS one. 2017 Apr 7;12(4): e0174652.
24. Chen AC, He H, Davey RB. Mutations in a putative octopamine receptor gene in amitraz-resista Hernandez R, Guerrero FD, George JE, Wagner GG. Allele frequency and gene expression of a putative carboxylesterase-encoding gene in a pyrethroid resistant strain of the tick Boophilus microplus. Insect biochemistry and molecular biology. 2002 Sep 1;32(9):1009-16. nt cattle ticks. Veterinary parasitology. 2007 Sep 30;148(3-4):379-83.
25. Hernandez R, Guerrero FD, George JE, Wagner GG. Allele frequency and gene expression of a putative carboxylesterase-encoding gene in a pyrethroid resistant strain of the tick Boophilus microplus. Insect biochemistry and molecular biology. 2002 Sep 1;32(9):1009-16.
26. Faza AP, Pinto IS, Fonseca I, Antunes GR, de Oliveira Monteiro CM, Daemon E, de Souza Muniz M, Martins MF, Furlong J, de Azevedo Prata MC. A new approach to characterization of the resistance of populations of Rhipicephalus microplus (Acari: Ixodidae) to organophosphate and pyrethroid in the state of Minas Gerais, Brazil. Experimental parasitology. 2013 Aug 1;134(4):519-23.
27. Mpofu, J. 'E-Slip empowers Namwala residents with livestock.' Ministry of Fisheries and Livestock; A Smart and Value-Centered Public Service. 17 September. Available at: https://www.mfl.gov.zm/?p=5789#:~:text=According%20to%20the%202010%20Population,to%20that%20of%20human%20population. 2020. (Accessed: 19 September, 2020).
28. Junte RD. Acaricide resistance in the blue cattle tick in South Africa; A comparison of three assays for determining tick resistance (Master's thesis). 2009.
29. Makuvadze FT, Hove T, Makaya P, Waniwa E, Nemaungwe T. Resistance of ticks on cattle to amitraz in Zimbabwe. Tropical Animal Health and Production. 2020 Nov;52(6):3323-30.
30. Stone NE, Olafson PU, Davey RB, Buckmeier G, Bodine D, Sidak-Loftis LC, Giles JR, Duhaime R, Miller RJ, Mosqueda J, Scoles GA. Multiple mutations in the para-sodium channel gene are associated with pyrethroid resistance in Rhipicephalus microplus from the United States and Mexico. Parasites & vectors. 2014 Dec;7(1):1-4.
31. Jonsson NN, Klafke G, Corley SW, Tidwell J, Berry CM, Koh-Tan HH. Molecular biology of amitraz resistance in cattle ticks of the genus Rhipicephalus. Frontiers in Bioscience: Landmark. 2018 Jan 1;23(2):796-810.
32. Luguru SM, Chizyuka HG, Musisi FL. A survey for resistance to acaricides in cattle ticks (Acari: Ixodidae) in three major traditional cattle areas in Zambia. Bulletin of entomological research. 1987 Dec;77(4):569-74.
33. De Meneghi D, Stachurski F, Adakal H. Experiences in tick control by acaricide in the traditional cattle sector in Zambia and Burkina Faso: possible environmental and public health implications. Frontiers in public health. 2016 Nov 9;4:239.
34. Chitombo L, Lebani K, Sungirai M. Acaricide resistance in Rhipicephalus appendiculatus ticks collected from different farming systems in Zimbabwe. Tropical Animal Health and Production. 2021 Sep;53(4):1-5.
35. Mekonnen S. Acaricide resistance profiles of single and multi-host ticks in commercial and communal farming areas in the Eastern Cape and North-West Provinces of South Africa (Doctoral dissertation, University of Pretoria). 2006.
36. Wambua BN, Muhigirwa E. An Assessment of the Causes of Tick Resistance to Acaricides use on Cattle in kazo County Kiruhura District, Uganda. International Journal of Applied. 2019 Jun;9(2).
37. Mweemba CE, Nyambe I, Funder M, van Koppen B. Poverty and access to water in Namwala district, Zambia. Report on the results from a household questionnaire survey. DIIS Working Paper; 2011.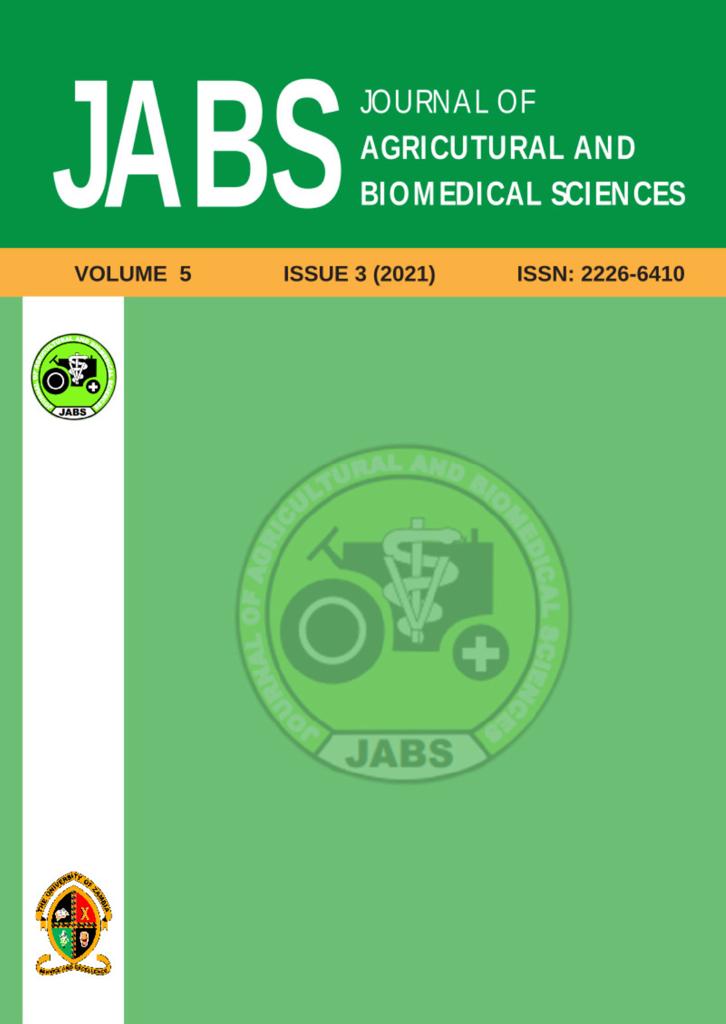 How to Cite
1.
Sichibalo K, Changula K, Mumba C, Mwila N, Chibesa K, Mubemba B, Nalubamba K, Muleya W, Simulundu E, Chitanga S. Potential causes of Acaricide Resistance in Rhipicephalus and Amblyomma Ticks (Acari: Ixodidae) in Namwala District, Zambia. University of Zambia Journal of Agricultural and Biomedical Sciences [Internet]. 3Jan.2022 [cited 4Jul.2022];5(3):1-2. Available from: https://journals.unza.zm/index.php/JABS/article/view/668
Section
Veterinary Medicine