Chongo et al., 2016 Use of the ICF in Measuring Performance of Basic Activities of Daily Living in People living with HIV/AIDS in Two Selected Home Based Care Programmes in Lusaka, Zambia.
Keywords:
Basic Activities of Daily Living, ICF, Home Based Care, Rehabilitation, HIV/AIDS
Abstract
Introduction: The increase of access to antiretroviral therapy has led to prolongation of life among people living with human immunodeficiency virus (HIV) and acquired immune deficiency syndrome (AIDS). Home based care is cost effective and convenient in managing HIV/AIDS. High prevalence of activity limiting symptoms has been reported in HIV/AIDS, but the level of performance of basic activities of daily has not been done in home based care programs in Zambia. The aim of this study was to measure the performance of basic activities of living in the Physiotherapy in Palliative Care Programme (PPCP) and Archdiocese of Lusaka (AL).
Methods: A descriptive cross sectional study design was carried out in PPCP and AL in Lusaka, Zambia. A total of 512 participants were recruited for the study and 481 questionnaires were returned, while 430 were eligible for analysis with two equal samples for each program. The International Classification of Functioning, Disability and Health (ICF) was used to
measure the severity of symptoms and level of performance of mobility and self-care. Data were analysed using SPSS version 20. The student t test was used to determine whether performance was significantly different between the two programs.
Results: There were more females (69%) than males (31%) with an age range of 18 to 65 years (mean age: 40.56; SD=10.14). The majority of participants were single (57%) and 43% were married. The mean number of months on HBC was 36.87 (SD=23.93) for PPCP and 45.00 (SD=32.67) for AL participants. The mean number of months on ARVs was 45.93 (SD=26.02)
for PPCP and 43.27 (SD=28.43) for AL participants. Pain was the most common symptom (69.5%) accounting for 72% in PPCP and 67% in AL. Other common symptoms were general fatigue (60.5%), numbness and tingling (55%) and tiring easily (53%). Participants scored 42.9% and 29.5% for mobility and 57.2and 26.0% for self-care in PPCP and AL respectively. The overall performance of BADLs had a similar pattern (45.8% and 31.9%) and age and severity of symptoms significantly increased limitations in BADL.
Conclusion: People living with HIV/AIDS experience a lot of pain and problems in performing basic activities of daily living. Physiotherapy may help to improve performance in self-care activities. Increase in age and severity of symptoms can significantly increase limitations in BADL. There is need to research further using bigger sample and interventional studies. The ICF has proven to be a useful tool for PLWHA in Zambia.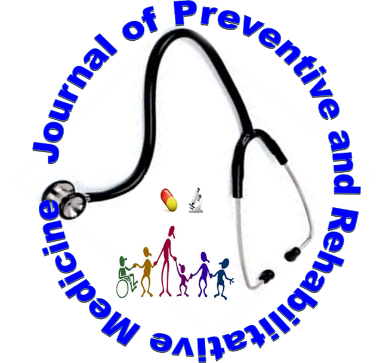 All authors who submit their paper for publication will abide by following provisions of the copyright transfer: 1. The copyright of the paper rests with the authors. And they are transferring the copyright to publish the article and used the article for indexing and storing for public use with due reference to published matter in the name of concerned authors. 2. The authors reserve all proprietary rights such as patent rights and the right to use all or part of the article in future works of their own such as lectures, press releases, and reviews of textbooks. 3. In the case of republication of the whole, part, or parts thereof, in periodicals or reprint publications by a third party, written permission must be obtained from the Managing Editor of JPRM. 4. The authors declare that the material being presented by them in this paper is their original work, and does not contain or include material taken from other copyrighted sources. Wherever such material has been included, it has been clearly indented or/and identified by quotation marks and due and proper acknowledgements given by citing the source at appropriate places. 5. The paper, the final version of which they submit, is not substantially the same as any that they had already published elsewhere. 6. They declare that they have not sent the paper or any paper substantially the same as the submitted one, for publication anywhere else. 7. Furthermore, the author may only post his/her version provided acknowledgement is given to the original source of publication in this journal and a link is inserted wherever published. 8. All contents, Parts, written matters, publications are under copyright act taken by JPRM. 9. Published articles will be available for use by scholars and researchers. 10. IJPRM is not responsible in any type of claim on publication in our Journal. .